In a paparazzi-laden place like Hollywood, the wheels of the figurative rumor mill are always spinning. But most recently, whispers can be heard about one rather unlikely duo in particular: Jamie Foxx and Katie Holmes.
Though hints of a romance have been circling for years, the two have never confirmed — nor denied — their status. Of course, when you're as high-profile as they are, it's best to keep things under wraps, but some new photos finally revealed the true nature of their relationship.
No one could have expected a young comedian like Jamie Foxx to climb the ranks of Hollywood to become one of the most well-known names worldwide. Especially when you take a look at his very first television role.
The Jamie Foxx Show helped launched Foxx's acting career, but it never truly showcased his acting chops. You can imagine he also never expected to win one of the most prestigious awards ever years later.
During the 2005 Acadamy Award ceremony, Foxx landed himself the Oscar for his portrayal of the legendary blind pianist Ray Charles in the film Ray.  But now, the paparazzi are scrutinizing another part of his life — the romantic side.
The name that came up in conversations on the subject was Katie Holmes, one of the stars of Dawson's Creek. While the show helped get her acting career off the ground, she became a much bigger household name for a different reason.
It was when she married Hollywood heavy hitter Tom Cruise that she was thrust into the spotlight on a different level entirely. However, after five and a half years of marriage, the relationship started heading downhill fast before ending in 2012.
See, the action star was a poster child for Scientology, which holds some very unusual ideas. Holmes didn't want their daughter, Suri, involved with the religion. Not long after the two split, rumors circulated over paparazzi photos.
This photo from 2013 of Foxx and Holmes definitely had people speculating the two were starting a more-than-friends relationship. Still, no one could say for certain this was proof. Nevertheless, the rumor mill was already turning.
But then, according to People, after Suri and Holmes moved to Los Angeles from New York City, the young girl was apparently spending a lot of her time at Foxx's ridiculously gorgeous mansion. But, there were still more clues the media latched on to.
At a surprise birthday party thrown for Foxx by his close friends Alicia Keys and Jennifer Hudson at the French restaurant Le Bilboquet in New York City, Holmes snuck in to meet Foxx. As it turned out, Holmes snuck around more often than not.
To ensure the paparazzi didn't start snapping photos of the two, Holmes wore disguises, such as a wig and a hat, to slip out of her home unnoticed to meet Foxx at hotels. But, she was undisguised while cheering him on at a special event in New York City.
Foxx, also a great singer as well as actor, joined Barbara Streisand on stage during one of her concerts to belt out some tunes alongside the Grammy-winning singer — and Katie Holmes watched from the audience. Soon, though, one final picture put the are-they-or-aren't-they question to rest.
The photo suggested Foxx and Holmes were shooting some hoops on a sunny afternoon. It was taken on Valentine's Day of all days. Two people hanging out on Love's holiday usually spells romance. But in a later interview, Foxx threw the media a curveball!
When a SportsCenter host asked Foxx about the Valentine's Day basketball date, Foxx immediately took off his headset and left. And the reason why was because of a special agreement he and Holmes had.
A source who was close with both Foxx and Holmes told Us Magazine, "Katie and Jamie have an agreement that they'll never talk about their relationship or each other in the press." However, a photo came out soon after Foxx's walkout that had jaws dropping.
People absolutely flipped when they saw Holmes wearing what looked like an engagement ring. Could Foxx have possibly proposed? Much to the sadness of Holmes fanatics, she admitted it was just a prop from a film. However, during the 2019 Met Gala, everything changed.
Although Foxx and Holmes didn't walk the carpet together, they did pose together once they arrived inside, and they finally acknowledged their rumored relationship by coordinating outfits — his shoes were the same color as her dress!
Yahoo Style
Cruise reportedly felt betrayed and hurt by both Foxx and Holmes. He'd known Jamie for a long time, so it's not surprising he wasn't on board with everything. However, there was someone thrilled by the relationship.
Foxx's daughter Corinne, who DJs her dad's show Beat Shazam, said her father and Holmes were "really happy." Hey, Tom Cruise might not approve of what's going on, but it's way more important Foxx's daughter does.
Are Katie Holmes and Jamie Foxx the world's next cutest couple? Only time will tell. But Holmes joined two other women on the list of those who've broken Tom Cruise's heart; the others were lucky enough to find love, too.
Mimi Rogers, for instance, moved on from Tom Cruise in 1990 after marrying the actor in 1987. She said "there were some issues which could not be resolved" in their relationship. In 2003, she married Chris Ciaffa.
It was Rogers that introduced Tom Cruise to Scientology, but not even a shared faith could keep them connected. Some speculate that the breakdown in their marriage happened after Tom saw a certain film…
See, the little-known actress Nicole Kidman took the world by storm in the 1989 thriller Dead Calm. Subsequently, countless directors and producers went crazy trying to cast her, but Cruise had a far different idea in mind.
YouTube
Nicole's performance enthralled him, who was riding high on his own string of blockbusters, including Top Gun and Rain Man. The rising star saw a similar talent in the young Australian actress and started dropping her name in meetings.
Late in the pre-production for Days of Thunder, Tom personally lobbied for Nicole to be his love interest. The studio agreed. While the racing drama failed to wow critics, it did set in motion a real-life storyline that captivated millions.
USA Today
The two co-stars fell for each other during filming, and both soon realized this was no on-set fling. Tom and Nicole were an official couple, becoming one of Hollywood's hottest romances overnight. It seemed almost like a fairytale.
They married not long after in 1990. Perhaps things were moving too quickly, but the entire story just seemed so perfect, especially with so many rich and famous faces wishing them well. Soon, however, rumors about discontent began to pop up.
With Nicole being so new to the Hollywood scene, some friends suspected that the actress was homesick for Australia. That may have been true to an extent, but it was tension closer to home that was the real threat.
Daily Telegraph
Tom and Nicole agreed they wanted kids, but they just couldn't get pregnant. A number of times the couple thought they'd gotten close, but the repeated failures nearly broke their hearts. Still, they had one other option on the table.
Knowing there were so many kids out there in need of families, they decided to adopt. They took in their daughter Isabella in 1992, and Connor followed in 1995. Nicole still hoped to conceive naturally, but other issues put that goal on the back burner.
Yahoo
Around the time when Nicole met Tom, he joined fringe religion Scientology. Tom immersed himself in their ranks, despite alleged mistreatment of members and a reputation as a cult. Nicole, on the other hand, kept her distance.
New York Post
Kidman didn't expect any issues with Scientology. After all, weren't there tons of couples out there with different faiths? She reconsidered that idea, however, when Scientology got its hands on her two kids. Ever so subtly, they started treating their mom differently.
Not being a member of the Church, Nicole was barred from attending events with her family. She wasn't willing to join Scientology, but still hoped they could make it work. When she and Tom starred together in Kubrick's Eyes Wide Shut, Nicole saw it as a good sign.
The Weekly Standard
Unbeknownst to her, Tom was coming to the realization that Nicole just didn't fit the bill. He just wasn't the same man she married. In his eyes, he'd evolved into a higher version of himself, one that simply couldn't deal with a non-believer. Something had to be done.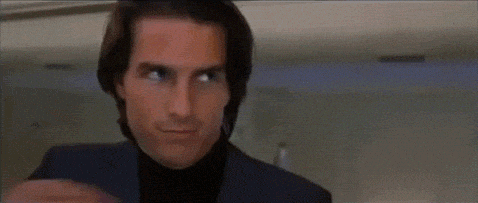 GIPHY
Of course, Tom knew a Hollywood breakup would prove a messy affair. Rather than tackle the paparazzi head-on, the A-lister leaned on his Scientology friends to handle it all for him. He had Marty Rathbun — the Church's "fixer" — got in touch with Nicole.
She, meanwhile, hadn't had much contact with Tom, though that wasn't a problem. Nicole was harboring a secret of her own — she was pregnant! The actress waited for the perfect moment to tell her husband, but a flurry of media announcements cut her off.
It was nothing short of a coordinated strike. In 2001, Tom had his publicist Pat Kingsley announce his impending divorce almost immediately after the Scientology fixer informed Nicole that she and Tom would have to go their separate ways — with a few conditions.
New York Daily News
According to former Church member Leah Remini, Tom and Nicole had to sign a skyscraper of paperwork during their divorce. Aside from financial matters, the forms dictated who both parties were allowed to speak to in the aftermath.
Insiders later reported that the paranoid Tom even secretly tapped Nicole's phone. Scientology members listened in to make sure she didn't violate the speaking agreement. This surveillance was likely how Tom found out about his ex-wife's pregnancy too.
Tragically, Nicole miscarried shortly after her divorce from Tom, and even then, he didn't stick by her side. He wrestled away custody of their son and daughter, who have barely had any contact with their mom to this day. Nicole wasn't sure if she could go on.
Karma had a way of helping her back on her feet, fortunately. She bravely re-entered show business, winning an Oscar in the process. Her bigger reward, however, came when she attended a 2005 gala and met singer Keith Urban.
Nicole found love again, this time with no strings attached. She married Keith the next year, and the newlyweds soon achieved something Nicole thought would never happen. After all her pregnancy struggles, they had two biological daughters together!
Mega Agency
Tom, all the while, embarked on another high-profile marriage and divorce with actress Katie Holmes. It turned out that his relationship with Nicole was only the tip of the iceberg in terms of his unusual behavior. All his eccentricities make for a strange saga.
Over the years, Tom Cruise allegedly allowed Scientology elders to select wives for him to "audition." High-ranking Scientologists allegedly trotted out a series of women for Cruise to date, including actress Nazanin Boniadi.
In a 2005 interview with Matt Lauer, Tom Cruise railed against prescription drugs, even those used for treating postpartum depression. According to him, depression could be cured with vitamins and exercise. In the same interview, he also rebuked psychiatry, which is a big position for Scientologists.
Today / YouTube
Over his decades in the spotlight, Tom Cruise was never afraid to hold journalists accountable for lies, rumors, or stuff they just couldn't really prove. Whenever someone sullied his character, he jumped at the opportunity to sue. A lawsuit might have been preferable for the next guy…
CNN
Once, when a reporter squirted Tom Cruise with a water gun mid-interview, he lost it. "Why would you do that?" he asked. "Do you like thinking less of people? Is that it?" Cruise then grabbed the reporter's hand and reprimanded him as he tried to flee.
Tom Cruise once melted hearts and made true romantics swoon when he enthusiastically jumped on Oprah Winfrey's couch during an interview while professing his love for then-wife Katie Holmes. Some rumors suggested the whole thing was staged and not an authentic outburst of emotion.
At a wedding many dubbed to be one of the strangest they had ever attended, Tom Cruise serenaded Katie Holmes with the song "You've Lost That Lovin' Feelin'," which was the tune he once famously sang in Top Gun.
It hadn't even been two weeks after Tom Cruise and Katie Holmes publicly announced they were expecting that photos of Holmes and her baby bump appeared in the tabloids. Rumors swirled that Cruise had Holmes wear a fake belly to quell gossip he was infertile.
People
Thanks to Scientology's theories, Cruise proposed that his children be born in complete silence. No screaming nor encouragement from nurses was allowed. And so, Suri Cruise entered the world in a room where you could've probably heard a pin drop.
katieholmes212 / Instagram
An accomplished actress in her own right, Katie Holmes—who became a household name after her role on Dawson's Creek—seemed to disappear once she married Tom Cruise. Allegedly, he persuaded her to turn down film roles and drop her manager.
Kevin Ballard / Flickr
While she was married to Tom Cruise, cameras often caught Katie Holmes with her friend, Jessica Feshbach. As it turned out, Feshbach was an established member of Scientology who once was Cruise's assistant. Many suspected she was hired to keep an eye on his wife.
After his divorce from Katie Holmes, Tom Cruise allegedly imposed rules on his ex-wife, such as barring her from talking to the press or dating anyone else for five years. Coincidentally, just over five years later, photos of Holmes with actor Jaime Foxx surfaced.
According to actress (and former Scientologist) Leah Remini, Tom Cruise once erupted in a fit of rage because he wanted to make cookies but couldn't find any cookie dough. Of all Cruise's faults, this one might be a bit more understandable 'cause, you know, cookies.
Remini dished additional Tom Cruise rumors in her Scientology tell-all. Apparently, Cruise once invited her to play hide-and-seek with Will Smith (among others) at his 7,000-square-foot home. She declined, but he "tagged" her and told her she was "it" anyway.
Tom Cruise (pictured here as his character from Tropic Thunder) worked tirelessly to recruit other Hollywood stars to Scientology. Allegedly, he tried bringing Jennifer Lopez, Alec Baldwin, and Margot Robbie into his world of thetans and dianetics.
Just Jared
Another ex-Scientologist, Nick Lister, said that Tom Cruise once spotted his 14-year-old niece kissing a boy. Thinking it was unbecoming of her, Cruise exiled the teenager from future family events.
HBO via E! Entertainment
According to ex-Scientologist Amy Scobee, Tom Cruise employed a gaggle of Scientologist minions to keep his former Los Angeles home up and running. He "had to hire an executive housekeeper, a maid, a cook, who all had to be Scientologists."
Over the years, the leader of Scientology, David Miscavige, has been a target for several sinister allegations, including one about his wife who hadn't been seen publicly since about 2007. Miscavige's best bud? None other than Tom Cruise.
Church of Scientology via LA Times
On the big screen, Tom Cruise has thwarted plenty of evil villains and dastardly foes, but even movie magic hasn't captured his real-world destiny. As one of Scientology's leading members, some have alleged he believes he'll lead humanity in a fight against aliens.
Impact Magazine via LA Times
Tom Cruise once starred in a video where he spoke of Scientology in a way that not even the most loving mother would speak of her child. The strangest part? He did so as the Mission: Impossible music played softly in the background.